Check out what our guests are saying on Trip Advisor!
Live music with Juneyt on Tuesday nights!

The Easy Pour Wine Bar....where wine is easy.
Located in the quaint village of Blair, Ontario. The Easy Pour Wine Bar is the ideal spot to taste, explore and enjoy a relaxing wine experience. Come visit our Heritage designated property, built in 1856, and enjoy the warmth of the heritage charm and rustic surroundings! Take a walk up our "Crooked Stairs" and seat yourself in a comfortable lounge chair, or pull up a stool to the bar and relax while you enjoy your visit.
Whether you are an avid wine connoisseur, or a novice taster, there is something for everyone! The Easy Pour Wine Bar is about exploring and tasting. We offer a small, and sharing size plates of a gourmet style menu with a variety of perfectly paired cheeses, breads, and simple dishes to compliment your tastings. Utilizing locally grown produce and the freshest ingredients, our innovative Chef has created the perfect compliments to enhance your wine experience.
Our varied wine list, uniquely displayed by characteristics, will be certain to offer something for all tastes. Ongoing, we will continue to add to our list and expand our selections to enhance our offerings, and prepare for your return visit! Of course for the non-wine drinkers, we also carry a variety of craft beers, and specialty cocktails.
At The Easy Pour Wine Bar, we encourage our guests and friends to join us, relax, and simply enjoy the journey of wine tasting from many regions around the world.
Explore the world of wine, and come visit us.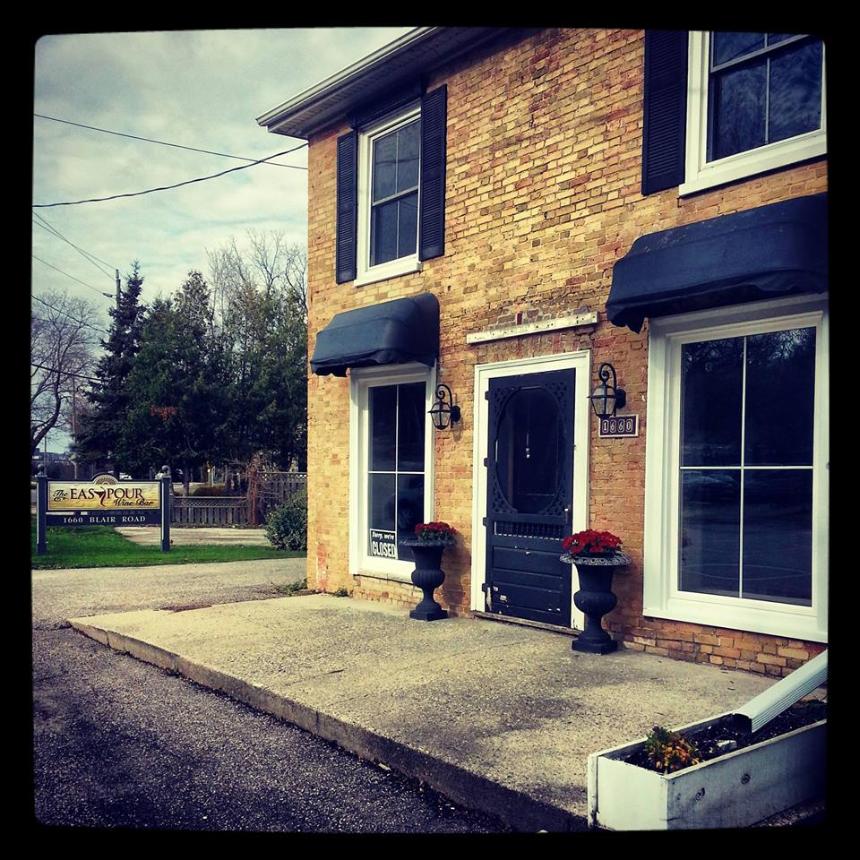 Philosophy
Our goal is to provide a comfortable yet elegant atmosphere, to enjoy the world of wines and perfectly paired food to accompany your tastes. We offer light meals, with an emphasis on locally sourced fresh ingredients and variety, with a focus on small dishes to compliment your tasting experience! At the Easy Pour, it's all about the tastings and having an enjoyable time!
OPEN FOR LUNCH AND DINNER MON-SAT - DINNER SUNDAY 1660 Blair Road, Cambridge, Ontario
519 219 3279